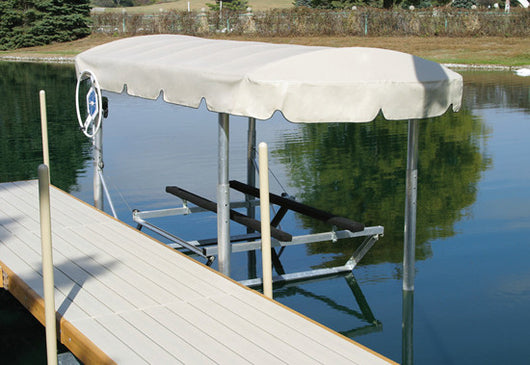 Boat Lift Canopy Service
Regular price $175.00 Sale
Order this service to have us install or remove your Boat Lift Canopy FABRIC. Please place an order for the number of canopies you'd like us to install or remove.
Please Note: This order is for the service on a lift with the canopy frame already installed.
We are happy to install or remove your canopy...but we do recommend having whoever installs or removes your boat do this service so that you experience as little delay as possible, and also so that it can be installed quickly, safely and minimize the risk of damage or injury to people, equipment or neighboring property.
Due to Insurance Requirements, Patriot Shore Services WILL NOT install your canopy without a boat in place on the lift.
High winds have been known to blow entire lifts out of the water and into nearby treelines or neighbors property causing extensive and costly damage to not only your property and equipment but to others as well.  We strongly recommend that you have your boat on the lift as soon as possible after installation to ensure it settles on the lake/river bottom to minimize this from happening to you...it can even happen to lifts without canopies. Due to this risk, Patriot Shore Services does not take responsibility for damage caused by or to an empty boat lift. 
*You will see settling and your equipment will likely need adjustments after a few weeks of the boat being in place due to the composition of the lake/river bed. This is very common and not any fault of the installation team.
The canopy must be on site for us to install otherwise an additional call back fee of $250 will be charged. 
**If we do not install due to weather concerns or our time constraints, you will not be charged for us to return and install. It is at our discretion to install at time of service at your property.